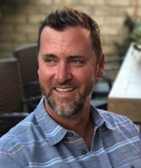 Angola, IN – January 7, 2019 — Local Radio Networks (LRN) is proud to announce that Matt Caldaronello has joined its team of 24/7 music format experts as Vice President of Affiliate Sales. The announcement comes days after Caldaronello resigned from Cumulus Media's Westwood One Network, where he was the #1 seller of 24/7 music format affiliations. The move occurs only 18 months after three former Westwood One executives joined LRN's expanding team. More executive announcements are expected in the coming weeks, as LRN continues to grow and strengthen its position.
"Matt is one of network radio's most highly respected affiliate sales and relations professionals," commented Steve Swick, President and Chief Executive Officer of LRN, who made the announcement. "He is passionate about the 24/7 music format business and cares deeply about the radio station owners and operators who rely and depend on superior quality content and service, combined with local control. His long-term relationships will be an asset to the radio stations migrating to LRN. On behalf of our long-time Vice President of Affiliate Sales, Donna Halverson, and our entire team, I am delighted to welcome Matt."
"Broadcasters are ready for a positive change," stated Caldaronello. "LRN is dedicated exclusively to 24/7 music programming, which allows them to focus entirely on the needs of local broadcasters. LRN's strategic relationships with ABC News Radio for award-winning news and with Skyview Networks for advanced XDS satellite delivery add more high-quality options for affiliates. I'm excited about the opportunities and new tools that I can now offer owners and operators, including maximum flexibility and control, along with quick turnaround solutions."
Caldaronello has more than 20 years of network radio experience in 24/7 music formats. During his most recent role as Vice President of Affiliate Management for Westwood One, he oversaw approximately 800 station affiliations and was responsible for generating new affiliate business and renewals. He can be reached via email, matt@localradionetworks.com, at his Los Angeles office, 661-414-7535, or on mobile, 661-618-2684.
About Local Radio Networks (www.localradionetworks.com)
Local Radio Networks (LRN) produces thirteen 24/7 music formats and is focused on providing local broadcasters with unprecedented localization and content control, national on-air talent, along with award-winning news from ABC News Radio. LRN offers advanced dual delivery platforms via XDS satellite, from a partnership with Skyview Networks, or LRN's proprietary Radio Velocity Control (RVC), which integrates seamlessly with most automation systems or can serve as a stand-alone automation option. Skyview Networks is the exclusive national network ad sales representative for LRN. Steve Swick is Founder, President, and Chief Executive Officer. Will Mashione is Co-Founder and Chief Information Officer. LRN is headquartered in Angola, IN, with offices in Los Angeles, CA, Dallas, TX, and a state-of-the-art Programming and Operations Center in Denver, CO.
Media Contact:
Renee Cassis | RC Communications Marketing
646-808-6505 | cassis2@msn.com
http://localradionetworks.com/wp-content/uploads/2014/10/lnr-logo-h.png
0
0
Local Radio Networks
http://localradionetworks.com/wp-content/uploads/2014/10/lnr-logo-h.png
Local Radio Networks
2019-01-07 15:30:53
2019-01-08 16:21:06
Matt Caldaronello Joins Local Radio Networks' 24/7 Music Formats Following Resignation from Westwood One